The "Taste of St. Joseph's Ukrainian Catholic Church" event in Oakville is out of my comfort zone of Toronto events, but let's note that they invite their neighbours for a "church open house" to see their recently-constructed facility.
(Updated Sept. 29, 2013): I missed reporting that this church organized an Oakville Ukrainian Festival at the end of Sept. 2013. Sorry that I didn't make that report in time. See below for the 2013 Nuit Blanche update.
Where is the St. Joseph's Ukrainian Catholic Church in Oakville?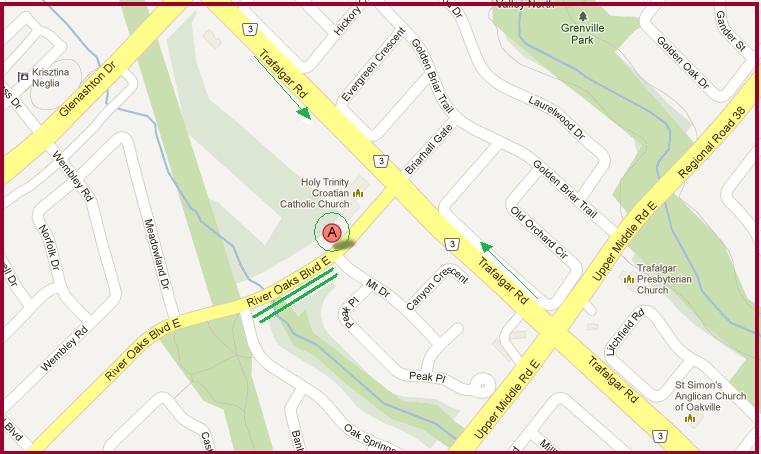 The church's address is 300 River Oaks Blvd. East, at Trafalger Road, in Oakville, Ontario.
When is the Taste of St. Joseph's Ukrainian Catholic Church?
The "Taste" event runs from 10am to 2pm on Saturday Sept. 29, 2012.
What is the Taste of St. Joseph's About?
St. Joseph's Ukrainian Catholic Church invites its parishioners and neighbours for food, music and a tour of the recently constructed church building.
While it's almost certainly a "free" event, I suspect that the church would be willing to accept donations towards their building fund, if you're so inclined.
The St. Joseph's Ukrainian Catholic Church web site explains more about the reasons for, and history of, their move. Click the "New Church Info" button towards the bottom of the left menu. It's a lengthy page with a lot of great visuals, including several videos.
Then Head Back to Toronto for the 2012 Nuit Blanche Event
(Updated Sept. 29, 2013): Toronto Nuit Blanche 2013 starts at 6:51pm on Oct. 5th, and runs until sunrise. Do you agree with "My Pick for 2013 Nuit Blanche Toronto"?
It's impossible to avoid mentioning Nuit Blanche in Toronto, which is one of this city's great one-night stands. Perhaps the better phrase would be "Nuit Blanche is a singular Toronto event in autumn".
They advertise widely, and their venues are scattered across three zones. Each zone has a variety of specific art installations or events. It's too big for me to give a proper treatment, but I have to mention it since it is free to attend.
Let me point out just one that caught my eye. In Zone A, the sponsored project is a "Fun House". Thom Sokoloski creates an "interactive performance art installation inspired by the classic carnival fun house". So take a ride and enjoy the immersive experience. This is venue #92, at Bay and Adelaide; but enter at Bay and Temperance.
Zone A is "downtown west"; zone B is "downtown central and east"; and zone C is "downtown east".
When is Nuit Blanche 2012?
Toronto's Nuit Blanche will be held on Saturday Sept. 29, 2012.
Peak hours for Nuit Blanche are from 8pm through 1am; but the event runs until 7am on Sunday Sept. 30th, 2012.
Quick Advice about Nuit Blanche
Take transit downtown, using an all-day pass if you normally spend tokens. Wear comfortable shoes, and have outerwear suitable for the elements. (You'll be walking around at night in early autumn).
Plan your evening so you have some hope of pursuing your interests. The official Nuit Blanche web site has an online planner, an interactive map, and full lists of the venues and installations.
Looking for More Annual Toronto Events?
Check the "annual events" or "Toronto events" categories toward the end of the left-hand menu.
Disclaimer: DeHaan Services has no relationship to the organizer(s); I am not reimbursed for writing this article. However, DeHaan Services does write web site or advertising copy for clients. Our skills are demonstrated in online articles in Decoded Science, and other web sites. That's why DeHaan Services highlight these online articles on this blog page.