(Updated June 18, 2015): My latest article about this annual summer event in Toronto is "One View of the 2015 Toronto Challenge 5K Charity Run".
(Updated June 3, 2014): The 2014 Toronto Challenge 5Km Run & Walk will take place on Sunday June 8, 2014, sticking to the 2012 route. Are you up for the challenge? You may register online, or wait until 7:30-9:00 am on Sunday to pay your $10-20 personal entry fee on site. I need to check with my Running Room 10 Miler clinic; can they run themselves this Sunday or am I free to join my favourite charity run?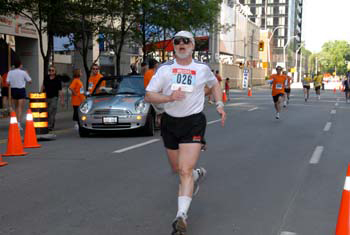 (Updated June 3, 2013): The 2013 Toronto Challenge will take place on Sunday June 9, 2013 and follow the same route as last year. I plan to register tomorrow via my local Running Room store. (Updated June 9, 2013): I did indeed run; although about a minute slower than last year, I still beat the half-hour mark handily. This annual summer Toronto event continued enjoying its streak of great weather. I hope and plan to attend the Toronto Challenge in 2014.
Reporting on the Toronto Challenge Run in 2012
The online site for the Toronto Challenge presents a new 5Km route for 2012. I'm not sure whether it is a temporary change due to construction on Queen's Quay, or if it represents a more permanent change. See the last paragraph for more details.
Regardless, I look forward to running this new route on Sunday June 10, 2012.
Updated June 10th: I Met the Challenge
This morning I did indeed run the new 5Km route for the Toronto Challenge. I haven't seen my official time posted online, but: I did cross the finish line; my own watch said I performed as well as I expected; and my breathing and leg muscles told me I'd put in my best effort.
More to the point of this article, I was pleased that the new route avoid climbing two bridges. The first 2Km is a gradual, shallow climb northwards but it makes the return south much more pleasant. I actually stretched out my stride a bit on that section.
My guess is that there will be complaints from motorists. The north/south route cuts across more major arteries in the downtown core. Since I'm in the thick of the pack, it's easy to notice the lines of cars. I even heard a couple little honks of desperation…as if the driver ahead of you isn't eager to move along, too!
I'm making no bets on whether the Toronto Challenge route will be adjusted again next year. Most likely, they will want to switch the finish lines for the runners versus the 1Km walkers. This year, we had to cross paths in the home stretch; that's tough for the runners to understand as they sprint to the finish, and somewhat dangerous for the frail walkers.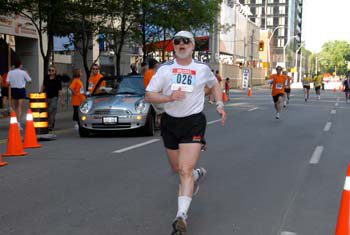 What is the Toronto Challenge?
The Toronto Challenge is an annual charity event that raises funds for a variety of Toronto agencies. Many offer assisted housing, services to seniors or are nursing homes.
It is also my favourite charity fitness event in Toronto's summer.
More Details about the Toronto Challenge
The Toronto Challenge is held on the second Sunday of June.
If you enter one year, Toronto City Hall will mail you a new entry form next May; or just remember to get a form from your nearest Running Room store.
By the way, the organizers have consistently given away quite high-quality cotton T shirts. They may not be the technical fabrics that runners prefer, but they're great to wear any other time.
The participants gather in David Pecaut Square, the park on the east side of Metro Hall, off Wellington Street or King Street.
Sign up for $20 on race day, starting at 7:30am; this is one of the few race events where this is possible. (There are other prices for different ages or for families).
Of course, most of us should have signed up already and badgered friends, relatives and acquaintances for their tax-deductible donations for the specific participating charity of our choice. With well over fifty to select, it may be difficult to narrow the choice unless you already have connections with one.
There are three options. Monster Mortgage sponsors the 5Km run; the Nissan Canada Foundation handles the 5Km walk; and Medical Pharmacies is attached to the 1Km walk.
The Running Room deserves a mention for their logistics; as well as the City of Toronto for its support.
On June 10, 2012, arrive between 7:30 and 8:45 to sign up, check in your baggage and chill out.
They host a warm-up from 9-9:15am, and then participants will marshall for the start.
The run and walk begin at 9:30.
Fitness and the Toronto Challenge
My main notes on 5Km running for this event are, "fittingly", in my online article in DeHaan Fitness, "The Toronto Challenge for 5Km of Fitness".
Let me just stress that most people should be able to gradually build up to walking or running a 5Km distance. Depending on your initial weight and fitness, this might start with just a brief walk. Others could start at this distance and find it easy.
In either case, the trick is to start within your current fitness. Over a period of a few weeks, build up the distance and, if possible the pace. The Toronto Challenge sets a great example in that walking and running can mix freely and cheerfully.
Contact me if you have questions; check the About page for details.
The New Route for the Toronto Challenge
In late May 2012, the Toronto Challenge web site announced the new route.
As usual, the run will start on Wellington Street, but well east of Simcoe Street. Running east along Wellington, it turns north onto University Avenue, takes the first quarter of Queen's Park Circle and then east onto Wellesley Street.
From Wellesley Street, it turns south on Bay Street, returning west past the start line to finish west of Simcoe Street.
This avoids the two railway overpasses in the old route, that caught me completely by surprise in my first year of running in the Toronto Challenge.