(Updated May 23, 2013): Muhtadi returns to Woodbine Park on June 8 & 9, 2013.
The 2012 Muhtadi International Drumming Festival
The free annual Muhtadi International Drumming Festival will be held at Woodbine Park on June 9 and 10, 2012.
A Quick Overview of the Muhtadi International Drumming Festival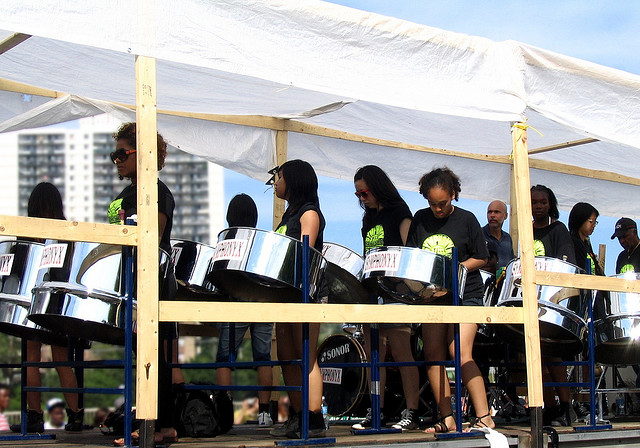 This Toronto drumming festival is named for its artistic director, Muhtadi Thomas, who founded the organization to celebrate and promote drumming. Who else promotes Toronto drumming events, specifically?
The location is Woodbine Park, bordered by Lake Shore Blvd East, Coxwell Ave. and Eastern Avenue.
The festival runs from noon through 8pm, both Saturday June 9 and Sunday June 10.
Admission to the Muhtadi International Drumming Festival is free, thanks to sponsors and vendors. Since it's outdoors, you should come prepared with sunscreen and, if necessary, an umbrella plus a waterproof container for your own drum.
The best TTC bet to is the 22 Coxwell bus south from the Bloor-Danforth subway line. Or transfer to the 22 Coxwell bus from the 506 Carlton streetcar as it crosses Coxwell at lower Gerrard. Normally the 501 Queen streetcar is a sure thing, but with the track work just west of Coxwell, I'd try swooping down from the north.
Driving and parking will probably be a pain. Located at the western end of the Eastern Beaches, the parking lot for Ashbridges Bay and Woodbine Beach is usually pretty busy on summer weekends. That goes double for anything listed in my "Toronto Events Summer" category.
If, for some reason, you cannot find the food or drink you want as part of this drumming event, restaurants on Queen St. East are nearby. Pizza, steak and chicken will be obvious choices in this neighbourhood.
Cross Cultural Drumming at the Muhtadi Drumming Festival
The list of performers includes the Afro-Brazilian group, "Baque de Bamba"; "Beyond Sound Empijah" who performed at AfroFest; "Isshin Diako" who play in a traditional Japanese style; and the Joy Lapps Trio led by Ms Lapps, the "Princess of Pan"; and more.
Amara Kante will lead a free workshop on drumming on Sunday. This is a BYOD event: Bring Your Own hand Drum.
Opportunities for Vendors and Sponsors for the 2012 Muhtadi International Drumming Festival in Toronto
You might still have an opportunity to participate as either a vendor or as a sponsor. Call 416-848-3838 to learn more.
Other Events in Toronto Starting June 9, 2012
Toronto serves a cornucopia of special events in the early summer.
June 9 marks the first weekend of the two-week Festival Luminato; see "My Double Double Picks for Luminato 2012 in Toronto" for my take on that festival.
As well, Woofstock takes over Berczy Park. My notes are in "The Whereabouts of Woofstock 2012 in Toronto".
I plan to write about the Danforth Music Festival, too.
Looking for More Annual Toronto Events?
Do you crave more events in Toronto?
Things to do in Toronto
Check the "annual events" or "Toronto events" categories toward the end of the left-hand menu for other fascinating, free or frugal annual events in Toronto.
CityPASS offers discount tickets to Toronto attractions, including the Metro Toronto Zoo. You buy the voucher online, print it and take it to your first destination; let's say it's the zoo. They give you the coupon booklet but remove the zoo tickets. Visit the next four attractions, where helpful staff relieve your booklet of tickets but leave you with the rest of the information. You save over $40 by spending about $70. The voucher is good for almost two years, but you have to use all the discount admission tickets within nine days. This is terrific for tourists looking for multiple things to do in Toronto, or for a hometown stay-cation: use discount tickets to Casa Loma, the CN Tower, Metro Toronto Zoo, Ontario Science Centre and the Royal Ontario Museum in a nine day adventure. That's five things to do in Toronto, and at a bargain price!
Disclaimer regarding DeHaan Services and the Muhtadi International Drumming Festival
Disclaimer: DeHaan Services has no relationship to the organizer(s); I am not reimbursed for writing this article. However, DeHaan Services does write web site or advertising copy for clients. Our skills are demonstrated in online articles in Decoded Science, and other online sites. That's why DeHaan Services highlights these online articles on this site.
Thanks for reading about the 2012 edition of the Muhtadi International Drumming Festival in Toronto.