(Updated Sept. 17, 2015). Please refer to my 2015 Woofstock Toronto article for more recent news.
(Updated March 29, 2014). Toronto's Woofstock will move to Woodbine Park for May 24 & 25, 2014.  Woodbine Park is bounded by  Lake Shore Blvd East, Coxwell, Eastern Ave. and Northern Dancer. Bring your dog on the 501 Queen streetcar to Coxwell, or take the 22 Coxwell bus south from the Danforth subway line. Either way, walk south to the north-east corner of Woodbine Park in Toronto's Eastern Beach community for Woofstock 2014.
(Updated May 25, 2013). Updated to note the 2013 Woofstock Toronto annual summer event at the St. Lawrence Market neighbourhood is June 8 & 9, 2013, from 10am to 6pm. It's still free to attend, with or without a dog of your own. The location information (far below) still seems correct, so check there for directions to "Woof Fest".
Competing for your attention on June 8 & 9, 2013 are the Beaches Arts & Crafts Show as well as the "2013 Muhtadi Drumming Festival at Woodbine Park in Toronto" and another "8 Fun or Charity Fitness Events in Toronto on June 9, 2013".
Summer of 2012 Woofstock Toronto
Dog lovers have been eagerly awaiting the 2012 Woofstock in Toronto, coming June 9-10, 2012 in the St. Lawrence Market district. Admission is free for this BYOD (Bring Your Own Dog) event.
(Updated Aug. 4 & Oct. 26, 2012). Updated to note the Winter Woofstock Toronto 2012 in the next paragraph.
Toronto
Winter Woofstock

2012

Winter Woofstock Toronto will be held November 17-18, 2012 in the Direct Energy Centre of the CNE (Canadian National Exhibition). The venue is open from 10am through 6pm. Please visit the official site, above, for more details about admission and schedule. Note that a 2-day pass costs $8 online and $10 at the door, according to the print ad.

On Oct. 26, I just saw a half-page ad in the Toronto Star for Winter Woofstock. With TorStar, Toronto.com and CityTV as sponsors, they don't need my help to get their information out. I notice with interest that they feature a "breakfast with Santa" in their agenda, and again invite you to bring your dog along for the adventure.
To Attend Summer Woofstock 2012 in Toronto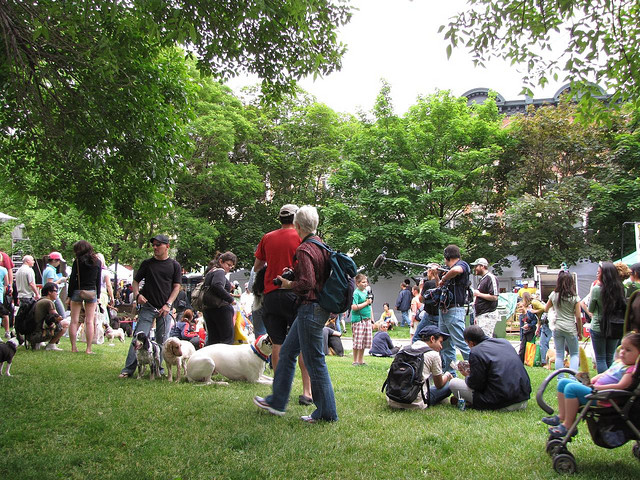 The first event on Saturday June 9 starts at 9am in Berczy Park. "Over the Rainbow…" has a long title to introduce a 10 week talent audition series. It sounds like a mashed-up canine version of "So you think your dog has talent and could be an idol, Canada". It also could be great fun for the audience.
Saturday's final event is the second "Purina Pro Plan Dog Stars" show. It's their fourth show of the day, beginning at 5:30pm.
Sunday June 10 has a later start, with Purina's professional dogs returning to the stage at 10:30am. They close the festivities with their eighth show at 5:30pm.
Perhaps the really important item is the Veterinary Emergency Clinic, or VEC, at Front and Jarvis streets. They will administer first aid to stricken canines during Woofstock.
Other events run during each day; some encourage your participation, while others might be oriented to spectators.
Location and TTC Information for Woofstock 2012 in Toronto
The key location is Berczy Park, the triangle bounded by Front Street, Wellington Street and Scott Street. Church Street intersects the eastern end of this triangle.
Apparently, Woofstock will take over parts of Church and Market streets south of Front, and Front Street from perhaps Yonge to Jarvis, where the St. Lawrence Market abides.
The main stage is towards the east end of Berczy Park.
The best Toronto Transit Commission (TTC) bets are the 504 King streetcar or the Union Station subway stop. You might consider the 75 Sherbourne bus south from the Bloor/Danforth subway, although it's not clear how this service might be affected by Woofstock itself.
Regardless of whether Front St. is closed by construction near Union Station, this always seems like an area for tourists to walk or transit, rather than to drive.
To Exhibit or Sell Products at the 2012 Woofstock Toronto
I have no idea whether Woofstock still has room for more exhibitors and vendors for June 2012, but call (416) 234-9663 to explore your options.
The organizers also offer a range of options to use Woofstock for your own advertising campaign.
To Volunteer at Woofstock 2012 in Toronto
Those at least eighteen years old may phone (416) 234-9663 to offer themselves as volunteers. Again, I have no idea whether they still need anyone.
Alternative June Events in Toronto
Several other early summer Toronto events compete directly for the same weekend, but that cannot be helped.
Id already mentioned Luminato in "My Double Double Picks for Luminato 2012 in Toronto", which runs from June 8 through 17, 2012.
On June 4th,  I added a new article about the Muhtadi International Drumming Festival, scheduled for June 9 & 10.
As well, the Danforth Music Festival is slated for June 9, 2012.
Looking for More Annual Toronto Events?
Do you crave more events in Toronto?
Things to do in Toronto
Check the "annual events" or "Toronto events" categories toward the end of the left-hand menu for other fascinating, free or frugal annual events in Toronto.
CityPASS offers discount tickets to Toronto attractions, including the Metro Toronto Zoo. You buy the voucher online, print it and take it to your first destination; let's say it's the zoo. They give you the coupon booklet but remove the zoo tickets. Visit the next four attractions, where helpful staff relieve your booklet of tickets but leave you with the rest of the information. You save over $40 by spending about $70. The voucher is good for almost two years, but you have to use all the discount admission tickets within nine days. This is terrific for tourists looking for multiple things to do in Toronto, or for a hometown stay-cation: use discount tickets to Casa Loma, the CN Tower, the Metro Toronto Zoo, the Ontario Science Centre and the Royal Ontario Museum in a nine day adventure. That's five things to do in Toronto, and at a bargain price!
Disclaimer: DeHaan Services has no relationship to the organizer(s); I am not reimbursed for writing this article. However, DeHaan Services does write web site or advertising copy for clients. Our skills are demonstrated in online articles in Decoded Science, and other online sites. That's why DeHaan Services highlights these online articles here.
Thanks for reading about Woofstock 2012 in Toronto.