The DesiFEST 2012 concert of South Asian music is an upcoming Toronto event that almost slipped past my radar! I assume it's free, since no admission costs are listed.
(Updated May 4 & 7, 2013):
The 2013 DesiFEST in Toronto
Return to Yonge Dundas Square on May 24 and 25, 2013 for "Bollywood in the Square" from 6-10pm and "DesiFEST" from noon to 11pm, respectively.
The 2013 DesiFEST organizers have planned events from May 20 through 26, although their official web site for 2013 lacks details as of May 7.
On Sunday May 26, 2013, the free Asian Sound Slam opens its doors at 3:30pm for musicians to learn from industry insiders; but a live music performance begins at 7pm. You must register through their web site.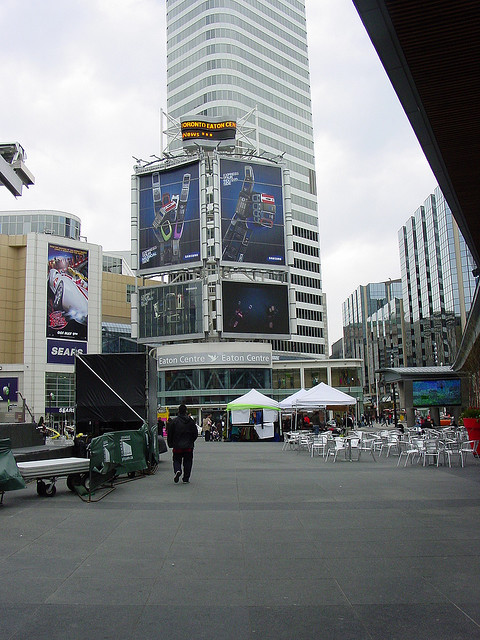 DesiFEST 2012 to be held Saturday May 26
Head to Yonge-Dundas Square on May 26, 2012 for the fifth DesiFEST in Toronto. The concert, a celebration of South Asian arts in Toronto, runs from 10am through 10pm on Saturday.
DesiFEST supports South Asian arts and culture in Canada, although my guess is that the concert will include a solid mix of modern music styles performed by members of the South Asian community. Judging from their site, the entertainment will be a street concert rather than a showcase for classical raga.
DesiFEST coyly links to a FaceBook page for their entertainment lineup, so it's hard to tell exactly who will perform. It seems ISC Nation, Roach Killa and Shohba are the most recently announced entertainers.
Rogers Communications is one of the principal sponsors. This event is one way to get extra service from this cable TV, Internet and cellphone provider.
Obviously, you will want to take the TTC downtown, rather than driving and then trying to find a parking spot. Track work on the downtown portion of the Yonge line will close the Dundas station May 26-27. Plan on a short walk from the St. Patrick station (University at Dundas), or take the 505 Dundas streetcar from anywhere along its route between the Roncesvalles station and the Broadview station on the Bloor-Dandforth subway.
South Asian Snacking at DesiFEST 2012?
I assume that White Gold Sweets, the Ontario Corn Roasters, and Frank's Redhot will sell food to the public, and are not simply catering to the performers. They are just a few of the vendors for this event.
It seems you will also get a chance to buy fashion items or other merchandise.
A Bollywood Movie at Yonge-Dundas Square on Friday May 25
"Zindagi Na Milegi Dobara" will be shown at Yonge and Dundas on Friday night.
DesiFEST lists the start time for this Bollywood movie as 6:30 pm. I'm not sure how Omni TV plans to darken Yonge-Dundas Square some three hours before darkness falls, but hopefully there will be a good show anyway.
DesiFEST Brings South Asia to Other Canadian Cities
If you can't be here for a South Asian event in Toronto this weekend, don't despair. DesiFEST also stages events in Montreal, Ottawa and Vancouver; feel free to find the details online.
(Disclaimer: DeHaan Services has no relationship to the organizer(s), who does not reimburse me for writing this article).
(Update): Another upcoming festive South Asian event puts the focus on India. Panorama India hosts an annual parade in mid August in downtown Toronto plus a celebration, also at Yonge-Dundas Square. This year's "India Day" will be Aug. 13, 2012. (This allows me to tag this article as a summer event as well as spring).
At the time I'm writing this, the weather forecast for Friday and Saturday is "sunny" and warm. Protect yourself from UV radiation while enjoying South Asian music at the 2012 DesiFEST concert in Toronto.