(New article on May 11, 2013): See also "2013 Doors Open Toronto Opens New Doors and Spaces". Now, back to the 2012 article.
My thanks to Torontonicity's Lori Bosworth for being the first to bring Doors Open Toronto 2012 to my attention, in her article "Tall Ships and Cruise Boats Part of Doors Open Toronto 2012".
Doors Open Toronto is an opportunity to go behind the scenes into Toronto buildings: both the famous and the obscure. This is one of those rare annual free Toronto events that helps us understand and appreciate this city.
Without Ms Bosworth, I would not have remembered this annual event until the mainstream media managed to bring it to my attention. Thanks!
An executive summary of this article would recommend spending Saturday May 26 and Sunday May 27, 2012, visiting interesting buildings in Toronto. Check the first link, above, for more details.
There are enough buildings scattered across Toronto that you could spend several years to visit them all. May I suggest three themes to open doors in Toronto.
Open the Doors to Places Rarely Visited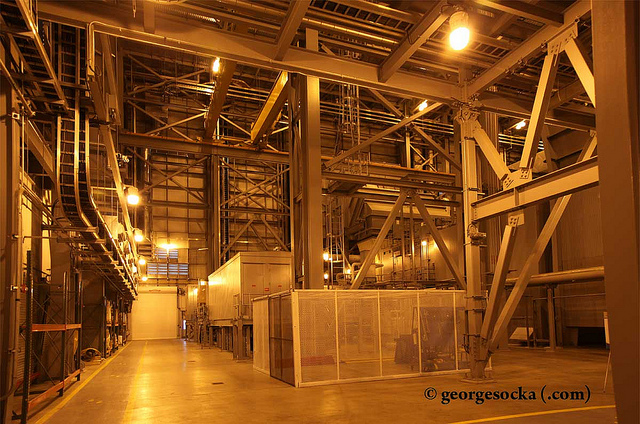 My first thought is to find buildings that I would never expect to be permitted to enter. The Portlands Energy Centre is one such place. When else could you tour a recently-constructed power plant? Does anyone remember the recent controversy about building a generating station in Toronto, rather than encouraging energy conservation measures to reduce electricity requirements?
My thanks to George Socka of beachdigital for placing his professional photograph onto Flickr under a "use with attribution" license. Is the interior of the building truly lit with sodium vapour lights?
Other places I would not expect to enter otherwise include:
The R.C. Harris Water Treatment Plant does not offer parking, but it's an amazing sight on an amazing site near the eastern end of Queen Street. Plan on a bit of a walk, whether you drive or take the Queen streetcar to the Neville Park terminus.
Queen's Park, the Ontario Legislature Building, may allow visitors in a gallery but those of us who do not serve as an MPP are unlikely to see much of the interior.
Osgoode Hall is a landmark at Queen and University, but I had never planned to walk past its fence.
Open the Doors to Tourist Attractions
I like the idea of going places where tourists may go, but with the chance to look "backstage". These attractions are available without using Doors Open Toronto, but it's a different experience.
I've spent many hours at Black Creek Pioneer Village, thanks to participating in the Toronto Mennonite Festival (MCC Black Creek Pioneer Village Relief Sale), which benefits Mennonite Central Committee's charity work, on the third Saturday of September. Their buildings were constructed at different times and for various purposes during the early settlement of this region.
Colbourne Lodge Museum, in High Park, is touted as a great example of its architectural style. High Park is also a terrific place to spend the day with your children, especially in good weather.
Old City Hall reminds me of paying parking tickets and witnessing a friend's civil wedding ceremony. I also love spotting the gargoyles guarding the exterior. This building is well worth the visit.
Open the Doors to Places of Worship
While many of us worship religiously in one building, Doors Open Toronto permits us to visit sites used by people of different faiths. The following list is just a quick sample; please don't be offended if it omits your place of worship.
Islamic Information & Dawah Centre International serves the Muslim community at Bloor and Dufferin.
Periya Sivan Temple is "the oldest…Canadian Hindu" temple.
Riwoche Tibetan Buddhist Temple of Toronto is on Heintzman Street, and was converted from its previous use as a piano factory.
St. Vincent de Paul is a Catholic church, nearing its first century on Roncesvalles Ave.
Bonus Themes for Doors Open Toronto in 2012
You might visit buildings where you have been entertained, such as the Princess of Wales Theatre or the Winter Garden Theatre.
The city of Toronto operates other museums and historical houses; you could pursue them throughout the year.
Several Toronto fire halls are listed. These are always popular with youngsters.
Several interesting businesses open their doors; so do public and private schools and colleges.
Important Note for Doors Open Toronto
Please review the details for the building you wish to visit, particularly for the day and time. Use the first link from my article, then pursue that attraction's link for further information.
Photographers and videographers must review each building's rules. Do they permit photographs or videos? Do they permit the use of a tripod?
If you have any question about directions, again the main site has information and, usually, maps once you click on the specific attraction.
Enjoy Toronto as you indulge in Doors Open 2012, one of the many Toronto events I like to publicize here.
Looking for More Annual Toronto Events?
Do you crave more events in Toronto?
Things to do in Toronto
Check the "annual events" or "Toronto events" categories toward the end of the left-hand menu for other fascinating, free or frugal annual events in Toronto.
City Pass offers discount tickets to Toronto attractions, including the Metro Toronto Zoo. You buy the voucher online, print it and take it to your first destination; let's say it's the zoo. They give you the coupon booklet but remove the zoo tickets. Visit the next four attractions, where helpful staff relieve your booklet of tickets but leave you with the rest of the information. You save over $40 by spending about $70. The voucher is good for almost two years, but you have to use all the discount admission tickets within nine days. This is terrific for tourists looking for multiple things to do in Toronto, or for a hometown stay-cation: use discount tickets to Casa Loma, the CN Tower, Metro Toronto Zoo, Ontario Science Centre and the Royal Ontario Museum in a nine day adventure. That's five things to do in Toronto, and at a bargain price!
Disclaimer: DeHaan Services has no relationship to the organizer(s); I am not reimbursed for writing this article. However, DeHaan Services does write web site or advertising copy for clients. Our skills are demonstrated in online articles in Decoded Science, and other online sites. That's why DeHaan Services highlights these online articles on this site.
Thanks for reading about Doors Open Toronto 2012.