Thanks to an alert reader and commentator ("Impress Your Date"; see the comments in "Introducing the Math of Conditional Probability"), I just researched and installed a "Captcha" plug-in for this WordPress site.
Why Add a Captcha to the Comments?
The reason for adding Captcha to the comments is simple: while I appreciate my readers and the fact they make comments, my settings require me to approve or delete each comment.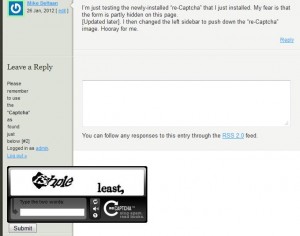 As much as I love my readers, it is tiresome and time-consuming to weed through the spam comments. Yes, you get a link and your message in the sidebar. No, I do not approve every comment. (Believe it or not)!
The Captcha should ensure that I'm not receiving automated spam comments. It should also be annoying for humans to generate more than one or two self-serving comments, too.
Time alone will tell. Will I tell too?
Planning for the Future
I plan to write a more complete description of the process in my Blog for Writing soon, but at the moment I have other irons in that fire. In the meantime, you can begin your journey by checking the main Captcha site.