My recent Decoded Science article, "An Introduction to Conditional Probability in Mathematics", continues my series about probability.
Probability versus Conditional Probability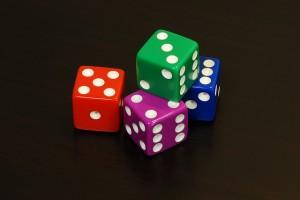 The idea behind "conditional probability" is that one event might become more or less likely to occur, given something else that has already happened. For example, if you need to roll a total of 9 or higher with two consecutive dice rolls, your chances improve if the first roll is high, but plummet to zero if the first number shown is '1' or '2'.
On the other hand, your odds of success should not be affected by last night's lottery selection. The probability of winning that jackpot is simply an incredibly small number, and can be calculated separately.
In my Blog of Writing, "Preview of Conditional Probability" also provides a useful writing tip.
(Updated 2012-01-17) As I explain in "Preview of Non-Commutative Conditional Probability", I will also include a link to one article that I used for reference:
Weisstein, Eric W. "Conditional Probability" From MathWorld–A Wolfram Web Resource.
Professional Writing by DeHaan Services
DeHaan Services writes web site or advertising copy for clients. Our skills are demonstrated in articles in Decoded Science, and other web sites. That's why we highlight articles on this blog page.
To only see our Toronto events or fitness, please click on the appropriate category in the "Categories" section at the bottom of the left-hand margin.
Thank you for reading about the mathematics of conditional probability.